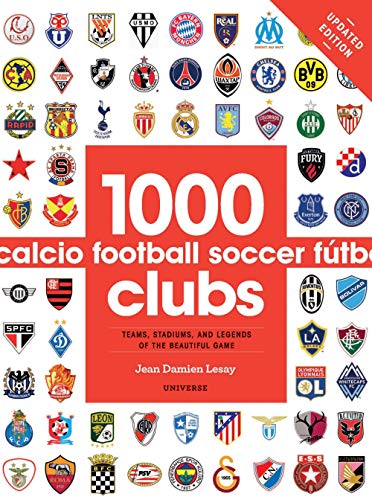 Si estás en busca del libro «1000 Football Clubs : Champions Of The Beautiful Game» de «LESAY, JEAN DAMIEN» haz llegado al lugar correcto. A continuación te dejamos una pequeña reseña del libro junto con su información y donde conseguirlo.
¿Se puede conseguir  o descargar el libro 1000 Football Clubs : Champions Of The Beautiful Game en formato PDF o Ebook?
No podemos asegurarte la disponibilidad del libro «1000 Football Clubs : Champions Of The Beautiful Game» en formato digital, sin embargo puedes ir a este enlace y revisar dicha disponibilidad.
Reseña del libro
his superbly illustrated volume is the fan's most comprehensive insight into 1,000 football clubs (a.k.a., soccer teams), both professional and collegiate, from every continent, illustrating each club's history and what it means to support their team. Included are key details from both men's and women's leagues, such as team colours, shirt designs, coats of arms, mottos, club songs, stadium details, legendary players, impactful coaches, the most memorable victories (and defeats)-in short, this is the ultimate trivia guide for any fan passionate about the Beautiful Game. For the die-hard supporter, a football club goes beyond just rooting for the home team. Each football club is a culture unto itself with fans comprising an extended family of shared memory, glorious victories, and camaraderie. Full of engaging stories behind team traditions and statistics detailing important achievements, players, and events, 1000 Football Clubs is a must-read for any football fan and a most useful survey for anyone who needs to understand the spor…show more
Product details
Format Paperback | 320 pages
Dimensions 170 x 229 x 27.94mm | 997.9g
Publication date 21 Jul 2016
Publisher UNIVERSE PUBLISHING
Publication City/Country New York, United States
Language English
Illustrations note 1150 colour images
ISBN10 0789331101<br />Sub-Categoría: Futbol
Categoría: Deporte
Idioma: Ingles
Páginas: 320
Información
A continuación te dejamos la información completa del libro y el enlace para ver la disponibilidad y conseguir una copia.
Título: 1000 Football Clubs : Champions Of The Beautiful Game
Editorial: Universe Edition
SKU: 2709482
ISBN: 9780789331106
Autor: LESAY, JEAN DAMIEN
Categoría: Deporte
Sub-categoría: Futbol
Formato del libro:
Idioma: Ingles
Número de páginas: 320
Ver disponibilidad del libro «1000 Football Clubs : Champions Of The Beautiful Game»