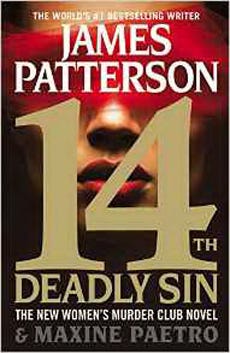 Si estás en busca del libro «14Th Deadly Sin (International)» de «PATTERSON, JAMES» haz llegado al lugar correcto. A continuación te dejamos una pequeña reseña del libro junto con su información y donde conseguirlo.
¿Se puede conseguir  o descargar el libro 14Th Deadly Sin (International) en formato PDF o Ebook?
No podemos asegurarte la disponibilidad del libro «14Th Deadly Sin (International)» en formato digital, sin embargo puedes ir a este enlace y revisar dicha disponibilidad.
Reseña del libro
James Patterson received the Literarian Award for Outstanding Service to the American Literary Community at the 2015 National Book Awards. His other awards include two Emmys, the Edgar Award, and the Children's Choice Award for Author of the Year. He is a tireless champion of the power of books and reading, exemplified by his new children's book imprint, JIMMY Patterson, whose mission is simple: «We want every kid who finishes a JIMMY Book to say: 'PLEASE GIVE ME ANOTHER BOOK.'» He has donated more than one million books to students and soldiers and has over four hundred Teacher Education Scholarships at 24 colleges and universities. He has also donated millions to independent bookstores and school libraries. Patterson will be investing proceeds from the sales of JIMMY Patterson Books in pro-reading initiatives.
Product Details
Paperback
Language: English
ISBN-10: 1455588784
ISBN-13: 978-1455588787
Product Dimensions: 6 x 1.2 x 9.2 inches
Shipping Weight: 1.1 pounds<br />Sub-Categoría: Crime & Mystery
Categoría: Books In English
Idioma: Ingles
Información
A continuación te dejamos la información completa del libro y el enlace para ver la disponibilidad y conseguir una copia.
Título: 14Th Deadly Sin (International)
Editorial: Grand Central Publishing
SKU: 2511719
ISBN: 9781455588787
Autor: PATTERSON, JAMES
Categoría: Books In English
Sub-categoría: Crime & Mystery
Formato del libro:
Idioma: Ingles
Número de páginas:
Ver disponibilidad del libro «14Th Deadly Sin (International)»