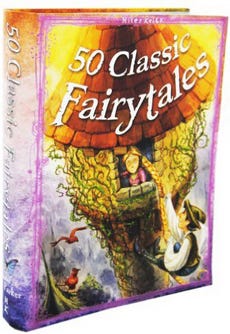 Si estás en busca del libro «50 Classic Fairytales» de «PARKER, VICTORIA» haz llegado al lugar correcto. A continuación te dejamos una pequeña reseña del libro junto con su información y donde conseguirlo.
¿Se puede conseguir  o descargar el libro 50 Classic Fairytales en formato PDF o Ebook?
No podemos asegurarte la disponibilidad del libro «50 Classic Fairytales» en formato digital, sin embargo puedes ir a este enlace y revisar dicha disponibilidad.
Reseña del libro
50 Classic Fairytales is an entertaining collection of traditional stories with a scary twist, from acclaimed authors such as Joseph Jacobs, Hans Christian Andersen and the Brothers Grimm. Classic tales, along with a host of lesser-known stories, have been imaginatively retold for children aged 7+. There are five themed story sections including Horrible Hags and Wicked Warlocks, Daring Deeds and Reckless Rescues, and Little Villains and Evil Monsters. With captivating and engaging illustrations throughout, this book will thoroughly entertain young readers.
Tapa blanda: 512 páginas
Editor: Miles Kelly Publishing Ltd
Idioma: Inglés
ISBN-10: 1782091971<br />Sub-Categoría: Children Books
Categoría: Books In English
Formato: Tapa Blanda
Idioma: Ingles
Páginas: 512
Información
A continuación te dejamos la información completa del libro y el enlace para ver la disponibilidad y conseguir una copia.
Título: 50 Classic Fairytales
Editorial: Imp. Book Depot North South Books
SKU: 2576756
ISBN: 9781782091974
Autor: PARKER, VICTORIA
Categoría: Books In English
Sub-categoría: Children Books
Formato del libro: Tapa Blanda
Idioma: Ingles
Número de páginas: 512