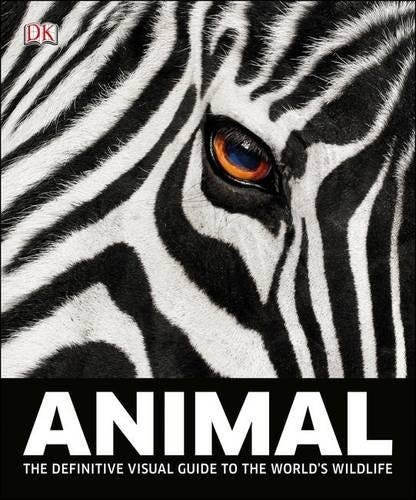 Si estás en busca del libro «Animal (Inglés) (Td)» de «BURNIE, DAVID» haz llegado al lugar correcto. A continuación te dejamos una pequeña reseña del libro junto con su información y donde conseguirlo.
¿Se puede conseguir  o descargar el libro Animal (Inglés) (Td) en formato PDF o Ebook?
No podemos asegurarte la disponibilidad del libro «Animal (Inglés) (Td)» en formato digital, sin embargo puedes ir a este enlace y revisar dicha disponibilidad.
Reseña del libro
What book would you take to a desert island? I have been asked this before, and I remain true to my original choice – it would be Animal. (Virginia McKenna, actress and wildlife campaigner Daily Mail 2009-04-10) Reseña del editor The definitive visual guide to the world's wildlife Go on an amazing visual journey through the animal kingdom with Animal and find out all about over 2,000 species from tiny elephant shrews to great baleen whales. Written by a team of over 70 zoologists and naturalists from around the globe the book has sold over one million copies worldwide and the new edition has been fully revised and updated to reflect changes in the animal world.
As well as important updates on the distribution, population and conservation status of many animal groups this new edition includes more breathtaking photography and 50 new species that have been discovered since Animal was first published 10 years ago. Such exciting creatures as the tube-nosed bat, ghost slug and the remarkable yeti lobster are now featured to name just a few.
Perfect for all the family, essential for nature students and conservationists everywhere – Animal is a classic for a new generation. The book's beautiful flocked cover, made to look just like a real zebra, also makes it the perfect gift.
Tapa dura: 632 páginas
Editor: DK; Edición: 01 (1 de septiembre de 2011)
Idioma: Inglés
ISBN-10: 1405362332<br />Sub-Categoría: Zoologia En General
Categoría: Zoologia Y Animales Domesticos
Formato: Tapa Dura
Idioma: Español
Páginas: 632
Información
A continuación te dejamos la información completa del libro y el enlace para ver la disponibilidad y conseguir una copia.
Título: Animal (Inglés) (Td)
Editorial: Dorling Kindersley
SKU: 2721262
ISBN: 9781405362337
Autor: BURNIE, DAVID
Categoría: Zoologia Y Animales Domesticos
Sub-categoría: Zoologia En General
Formato del libro: Tapa Dura
Idioma: Español
Número de páginas: 632