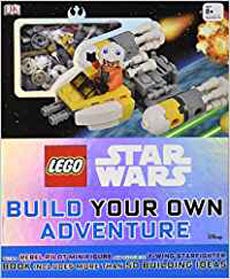 Si estás en busca del libro «Lego Star Wars Build Your Own Adventure (Inglés) (Td)» de «LEGO» haz llegado al lugar correcto. A continuación te dejamos una pequeña reseña del libro junto con su información y donde conseguirlo.
¿Se puede conseguir  o descargar el libro Lego Star Wars Build Your Own Adventure (Inglés) (Td) en formato PDF o Ebook?
No podemos asegurarte la disponibilidad del libro «Lego Star Wars Build Your Own Adventure (Inglés) (Td)» en formato digital, sin embargo puedes ir a este enlace y revisar dicha disponibilidad.
Reseña del libro
Build your own Adventure combines more than 50 inspirational LEGO ideas for building with enthralling story starters. Get inspired to build, then play out your own adventures using your LEGO bricks. Comes with a rebel pilot minifigure and bricks to build an exclusive Y-wing starfighter model that features in the book.
From a podrace on Tatooine to a jailbreak on Bespin each chapter of LEGO Star Wars Build your Own Adventure is packed with inspirational model ideas ideal for all ages and building abilities, with a mix of easy, medium and harder models.
2016 The LEGO Group. Manufactured by Dorling Kindersley under licence from the LEGO Group.
2016 LUCASFILM LTD.
Biografía del autor
Daniel Lipkowitz is an Editor and story developer for the LEGO Group. He writes for LEGO® Master Builder Academy and LEGO Club Magazine, creates characters and storylines for new LEGO themes, and writes scripts for animated LEGO movies and videos. He is the author of DK's New York Times bestselling The LEGO Book, The LEGO Ideas Book, and LEGO Batman Visual Dictionary.
Tapa dura: 80 páginas
Editor: DK Children; Edición: 01 (1 de agosto de 2016)
Colección: Lego Star Wars
Idioma: Inglés
ISBN-10: 0241232570<br />Sub-Categoría: Hobbies
Categoría: Juegos, Ocio Y Actividades
Formato: Tapa Dura
Idioma: Español
Páginas: 80
Información
A continuación te dejamos la información completa del libro y el enlace para ver la disponibilidad y conseguir una copia.
Título: Lego Star Wars Build Your Own Adventure (Inglés) (Td)
Editorial: Dorling Kindersley
SKU: 2721033
ISBN: 9780241232576
Autor: LEGO
Categoría: Juegos, Ocio Y Actividades
Sub-categoría: Hobbies
Formato del libro: Tapa Dura
Idioma: Español
Número de páginas: 80
Ver disponibilidad del libro «Lego Star Wars Build Your Own Adventure (Inglés) (Td)»