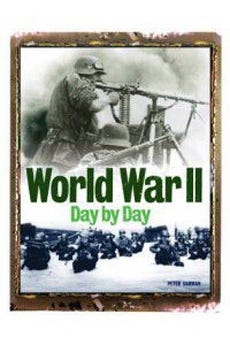 Si estás en busca del libro «World War Ii Day By Day» de «SHAW, ANTONY» haz llegado al lugar correcto. A continuación te dejamos una pequeña reseña del libro junto con su información y donde conseguirlo.
¿Se puede conseguir  o descargar el libro World War Ii Day By Day en formato PDF o Ebook?
No podemos asegurarte la disponibilidad del libro «World War Ii Day By Day» en formato digital, sin embargo puedes ir a este enlace y revisar dicha disponibilidad.
Reseña del libro
The hardcover reference titles in the Day by Day series examine the evolution of wars in a chronological timeline, from the first skirmish to the last battle and everything in between. These books are a historical companion to each major war in the nineteenth and twentieth century. The fate of soldiers, battalions, armies, can change in the blink of an eye–with this comprehensive book readers can follow the conflicting sides in their strategy, weaponry, and policies.
World War II Day by Day is a chronological history of the second World War from the beginning of the Polish campaign in September 1939 to the surrender of Japan in Tokyo Bay on September 2, 1945. All the major war theaters are covered, as is the fighting in the air and the sea. The dated entries, which are written as though they have just happened, thereby recapturing the immediacy of the war, analyze the major battles and campaigns of the war, such as Stalingrad, Kursk, Midway, D-Day, Iwo Jima, Okinawa and Berlin.
Accompanying the entries in World War II Day by Day are longer features on various aspects of the conflict, such as the war's decisive weapons, strategic decisions, and policies. There are also biographical entries on the individuals who shaped and prosecuted the war in both Europe and the Pacific theaters: leaders such as Chamberlain, Stalin, Zhukov, MacArthur, Hitler, Manstein, and Eisenhower.
Product Details
ISBN-10: 0785826637
ISBN-13: 9780785826637
Publisher: Chartwell Books
Language: English
Hardcover: 192 Pages
Product Dimension (L x W x H): 27.94 x 21.59 x 2.29 CM
Shipping Weight: 1.08 Kg<br />Sub-Categoría: Segunda Guerra Mundial
Categoría: Historia Y Geografia
Formato: Tapa Dura
Idioma: Español
Páginas: 192
Información
A continuación te dejamos la información completa del libro y el enlace para ver la disponibilidad y conseguir una copia.
Título: World War Ii Day By Day
Editorial: Imp. Hachette Bea Chartwell Books
SKU: 2315553
ISBN: 9780785826637
Autor: SHAW, ANTONY
Categoría: Historia Y Geografia
Sub-categoría: Segunda Guerra Mundial
Formato del libro: Tapa Dura
Idioma: Español
Número de páginas: 192